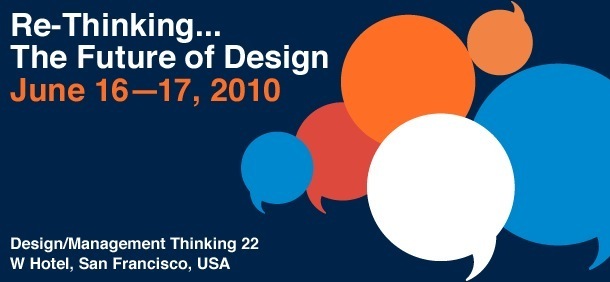 More from DMI…
Silver buckshot
Soundbite of the day: There is no silver bullet, but there is silver buckshot. (Valerie Casey)
Interdisciplinary takes work
Being interdisciplinary involves more effort than simply assembling a committee. It requires training in how to work collaboratively, and — more importantly — how to communicate your values and point of view in a way that is understandable and compelling to others.
Oh, the humanities!
Roger Martin says integrated thinking starts with critical thinking, and is bolstered by a well-rounded education in the humanities. My mom's insistence on a BA instead of a BFA is looking pretty good right now! It is true that while I lost out on a more rigorous education around concept and craft, I gained a better education in all the things that help you understand who people are, where they are coming from, and how they think. There will always be someone who is a better visual artist than I am, but I am a better critical and abductive thinker than most.
Define winning
David Butler of Coca-Cola talked about the importance of clearly defining "winning" for the organization, to give structure to decisions and resolve conflicts. I'm sure there isn't always such organizational clarity and selflessness, and it called to mind Joel Kashuba of P&G who spoke at CCA last semester. When we were at dinner he said his first question in any collaboration is to ask how they are rewarded, meaning what success means to them (and their boss). This is simply the personal definition of winning — is it patents, a bonus for meeting a target, career growth? Once you know what it is, make it a design requirement and things will go much smoother. It's obvious, but we rarely think to ask explicitly and then wonder why our projects get mysteriously derailed.
Project ROI
Butler also brought up something I should make my personal mantra: Focus on the highest-value offerings. There are infinite projects that are interesting or fun or relevant, and it's easy to get distracted by them especially when you are passionate about your work. Use finite resources and time intelligently to get to winning faster.