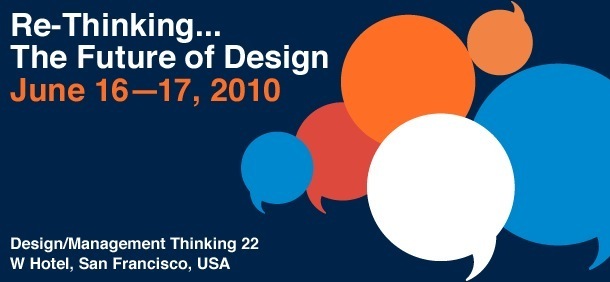 Wrapping up my thoughts on DMI Re-thinking…The Future of Design, I have a few final thoughts on pushing the design thinking discussion farther. I came away from the conference feeling there is still a lot of talk about the theoretical application of design thinking, but not much about the actual practice of it.
A critical comment was made during the wrap-up, wishing there had been more conversation around applying design thinking outside of design disciplines. I couldn't agree more. I already live in the world of design thinking for designers, and I want to learn more about design thinking for more traditional business domains such as finance and corporate strategy.
David Butler and Chuck Jones were edging around that conversation, stating that as executive design leaders they were being invited to business planning meetings and the like. That is exactly what I wanted to hear more about, and what I hoped to find at this conference. How are those interactions going? What are they able to bring to those discussions, or finding they are unable to bring? Are they doing anything to actively advance the case for "designers" moving beyond conventional perceptions and becoming business partners within their organizations? I'd like to see some tactical discussions about what it took to get to those positions and what they think design thinkers need to know or learn to succeed.
On the other hand, as much as I would like this guidance, Valerie Casey made the point that she's tired of designers asking for "5 steps" to make things happen. She argued that we're designers, our job is to use our imaginations to solve problems. We should be able to figure things out for ourselves and not need everything spelled out for us, and she isn't entirely wrong. We can't wait for someone to tell us what to do, we have to just jump in.
That's what I've been doing for years and while it does work, it works very slowly. It would be nice if there were more institutional track being laid to draw connections between disciplines and change job descriptions to reflect our more complex world. For instance, I've seen articles discussing universities cutting liberal arts majors due to a lack of interest because of job placement fears, and yet I know plenty of anthropology and philosophy majors today who have amazing jobs as design strategists and researchers. The universities aren't doing enough to draw lines between their humanities programs and the design thinking type jobs that value those skills. And, they could be better preparing those same students through integration across disciplines including business courses.
My last thought is that we did get one real-world example of organizational design thinking from Katie Taylor of the Four Seasons, but it wasn't universally recognized as such. After the conference was over, I was engaged with a gentleman who felt that her presentation did not reflect design thinking. It's subjective, but I believe the elements of design thinking that are most valuable to business are: user-centered principles, systems thinking, and prototyping. Her story sounded a bit simplistic at times — the best design is often obvious, after all — but describing how they assess and adapt to guest needs, understand the entire customer experience, and empower employees to try out new solutions certainly met my criteria to qualify as design thinking.