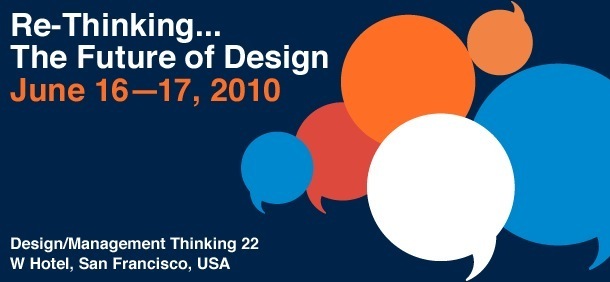 This year I was unable to attend Sustainable Brands, but in its stead the following week I went to the DMI Re-Thinking…the Future of Design conference in San Francisco.
At the risk of sounding like a jaded know-it-all, by the time there is a conference created it seems that I've already been having many of those conversations for years. I'd like to see conferences push the conversation further, going from theory to practice and becoming far more multi-disciplinary. More on that to come.
That said, there were still great insights and conversations to be found, and following are the ones still on my mind a week later:
Defining "design thinking"
John Fly of Milliken made the argument there should be no canonical definition of design thinking because its very essence is rooted in a diversity of ideas and insights and therefore should not be fixed.
Later, Joel Podolny was discussing how the Yale business school had to create an internal communications program to ensure students were able to successfully discuss their new, unusual curriculum with employers. It immediately occurred to me that the DMBA program could benefit from this type of messaging training as we talk about our unique education to the world. Then my follow-up thought was that, per Fly, there is a value in each of us defining it in our own way. (We should each have a definition and be prepared to discuss it, though, whatever it is.)
Leadership matters more than talent
Robert Verganti said that half of all of the famed Italian industrial design is actually designed by non-Italians. What the design houses have in common is the vision of Italian design management.
Innovation is risky. Deal with it.
It was unanimously agreed that innovation can't be measured and validated, and anyone who says they can is wrong. (Not so different from other strategies and forecasts. They are always invented numbers to a greater or lesser degree.) You simply can't measure the future. Verganti recommended involving executives in the entire process so that they see the solution as an inevitability rather than something that arrived out of the blue. On the other hand, someone else noted that you can't overwhelm clients with every detail of your process and thinking. Getting the right balance and facilitating stakeholder involvement sounds like one of the key challenges of innovation.
During a break, I was speaking to a consultant who pushed back on the inability to measure innovation, stating that most big companies just aren't going to do something you can't prove the case for. He's right. That's why most firms aren't innovative.
Making the case
In a conversation with Nathan Shedroff, the chair and creator of my Design Strategy MBA program, and Bruce Nussbaum of BusinessWeek, Bruce said that companies should be snapping graduates like us up. Great! So how do we convince them of that? Or do we? This may be similar to innovation — convincing companies is a waste of time, but you can find the converted and work with them.