It seems everyone is talking about purpose these days. Imperative has a new take on what purpose means in your career — it's not the cause you work for, but how you work.
Curious to see what surprises it might reveal, I took Imperative's purpose driver quiz. My results: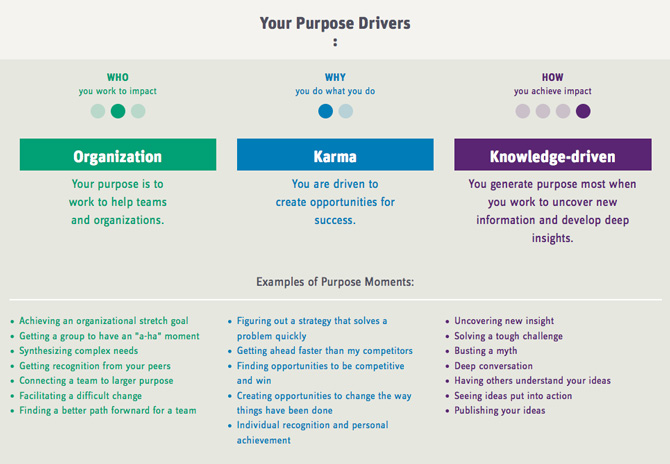 This is spot on! In fact, if you reverse the order it's an overview of my job as a brand strategist: I generate new insights that create opportunities for organizations.
Taking the test revealed an important facet of what makes work meaningful to me — a time horizon of a year or less. While I certainly look years ahead when developing strategies, it's important for me to see visible progress in the near-term and to know my work won't vanish into the corporate void. This accounts for my preference for scrappy, responsive organizations over bureaucratic ones.
Closely related is my preference for organizations, as opposed to individuals or societies. The one-on-one aspects of my work are deeply satisfying — little compares to the a-ha moment when a leader suddenly sees his situation in a whole new way — but the real value is turning individual transformation into a bigger organizational shift. And while I love the idea of shifting society, that feels a little too big. Not to mention systemic changes take years, decades even, to pay off. If they ever do.
Why does knowing your drivers matter? Here's an example: Let's say I'm passionate about conscious capitalism. These results tell me I'll be happier working with a B Corporation, where I can directly impact and enable their success, rather than getting involved in community organizing or policy for this cause. Since I often wonder if supporting cause-driven organizations is enough and think I should be contributing on a higher level, it's important to understand that what seems more meaningful may not be. I'm right where I should be.
I met Imperative's CEO Aaron Hurst a decade ago when I became an early volunteer with the Taproot Foundation, which he also founded. He did a great job building Taproot into what it is today, and I look forward to seeing what he does at Imperative.
Building a meaningful career has been incredibly important to me, and hope Imperative can help more people find their purpose.
Updated to add: Want to dive deeper? Check out the Purpose Economy site and book!