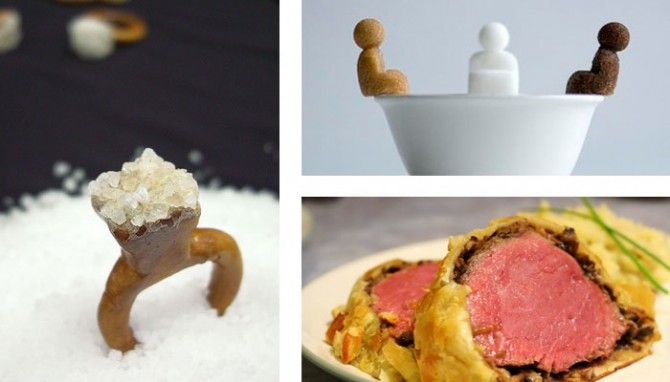 Tastespotting compiles the best in food blogging from all over the world, making it the ultimate in food porn and a very amusing way to waste a bunch of time. Whether you're looking for ideas about what to cook or just want to admire others' creativity and talent, this is the place.
In the "OMG That's Brilliant" category today, we have a pretzel diamond ring, by Roni Baram of the industrial design department at H.I.T, Israel on the left. Top right we have sugar people, waiting to be knocked into to their watery (or coffee-y, rather) graves from Natasha at Nova Clutch.
And the "Food Worth Drooling Over" category is being represented by the Beef Wellington on the lower right, courtesy of Mike's Table. My nitpick here is it should be made with brioche, not puff pastry, but who am I kidding? It looks fantastic and I'm jealous. The best story of my childhood is how I requested my parents make me Beef Wellington for my birthday…when I was 4.