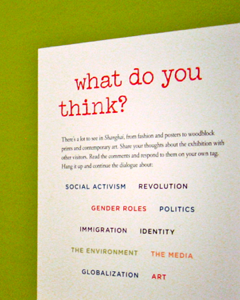 Over the past few years I've seen many museums trying to create reflective, interactive experiences for visitors. This is an important effort considering the pressures on museums as they fight for financial resources in a downturn, not to mention mind share in an age of digital entertainment.
The effort is there, but often the interactive components are not integrated into the exhibits or the museum experience. At the Shanghai exhibit at the Asian Art Museum there was  a small lounge with a few activities such as the prompt pictured, but it was tucked away — nearly hidden — on a separate floor of the museum. Other times, "interactivity" is limited to sending a free postcard or posting a note on a wall.
The best interactive displays I've seen locally are at the Oakland Museum of California. My favorite at OMCA is the "Is it Art?" lounge because it addresses an age-old question with a wink. Visitors are lured in by comfortable seating, then challenged to consider their point of view and vote if various objects ranging from a Native American basket to a pink furry thing are "art". And because you can see the vote tickets in clear plexi containers, you get a sense for the general opinion as well as your own.