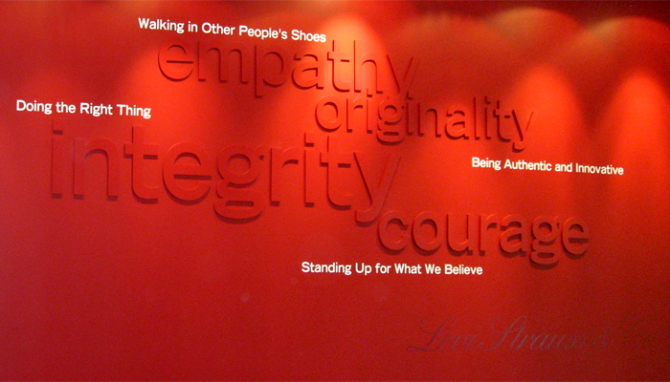 I believe in supporting companies that make a commitment to doing good, both as a designer and a customer. Whether or not they always succeed, understanding that business should also be socially and environmentally responsible is a big step towards where we need to be. Although the real trick is you have to mean it.
For the past two weeks, I've been working on a great project for Levi Strauss & Co. While I have always avoided retail fashion, especially the mass-market kind, I'm pleased to be working with a company that embraces values. The photo above is from their lobby, and it is great to see what they stand for plastered up, bigger than life.
I was also very impressed at their attitude towards their customers; we discussed how important it was to talk to and about all of their customers in a respectful and positive way. It's easy in this business to look down on those who are unfashionable, poor, or overweight, and I appreciate their desire to be inclusive.
As I look to move up in brand management (the purpose of getting the MBA), it would benefit me to work for larger organizations for a few years to gain credibility and learn more about the challenges of a large, multi-national company. However, I still want to work for a company I can believe. Levi's is just the kind of company that could fit both bills, and now I'm motivated to push aside my assumptions and look more closely for other opportunities I might be overlooking.