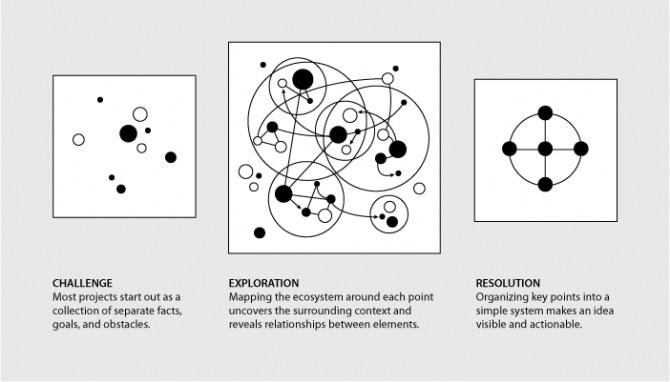 In my continuing journey to define my unique selling proposition, here is another personal infographic. This one describes the kind of thinking that makes me happiest: The challenge of taking a disconnected or even seemingly impossible set of conditions and making sense of it.
It starts with making sure all the known points are on the map. Then, explode the system out into a Rube Goldberg contraption of craziness — discover the unknown points, explore the context, and swim in the data until patterns emerge. Once the systems and opportunities are revealed the really hard part begins, isolating the key points and wrangling them into a deceptively simple system. That last part usually takes a few iterations.
This is a typical design thinking approach, certainly not unique to me, and it was fun to go through the process to make the graphic about the process. I'm hoping all this will lead me to more clearly articulating my own key points and system.