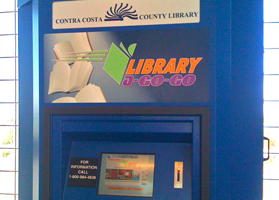 Out at the farthest edges of the Bay Area in Contra Costa County, I saw this amazing mini-library in a BART rail station. From the library web site:
"Library-a-Go-Go is an automated book dispensing machine. It's a self-contained collection of books that allows Contra Costa County Library card holders to borrow library books and return them when finished."
The selection is probably quite limited and it doesn't replace the library browsing experience, but it is a fun idea. Sort of a modern Bookmobile. I like the convenience of being able to get or drop a book on the way to work, and anything that improves library use and access is a good thing. I just hope it actually gets used — the decline of libraries is such a shame.